At Nussbaum, we are honored to work alongside veterans of the U.S. Army, Air Force, Navy, and Marine Corps and a few active-duty service members. These men and women exemplify what we call "purpose-driven"– service, sacrifice, and positively impacting others.
At Nussbaum, you'll find them driving trucks, repairing equipment, and managing operations. One of these dedicated individuals is Staff Sgt. Jerrid Knight, U.S. Air Force.
Supporting our Employee Owners
Shortly after joining Nussbaum in May 2021, Jerrid was called to mandatory six-month training with the Air National Guard. We sent him off with our best wishes and the assurance that his job would await him when he returned. His coworkers even sent a special care package full of his favorite goodies. Jerrid's uncle and brother work at Nussbaum (his brother is also a Marine veteran!), so they recommended items he would enjoy.
In January 2022, we welcomed Jerrid back to Nussbaum. Fast forward to today, and he's accepted a promotion! "Nussbaum Transportation is a great company to work for," Jerrid says. "I appreciate their sacrifice and willingness to assist with a great transition back into the civilian sector."
Unbeknownst to us, Jerrid nominated Nussbaum for the Employer Support of the Guard & Reserve (ESGR) "Above and Beyond" award, recognizing employers who support guard and reserve employees beyond the basic legal requirements. In May 2022, Nussbaum was honored to receive the award at the Illinois ESGR banquet.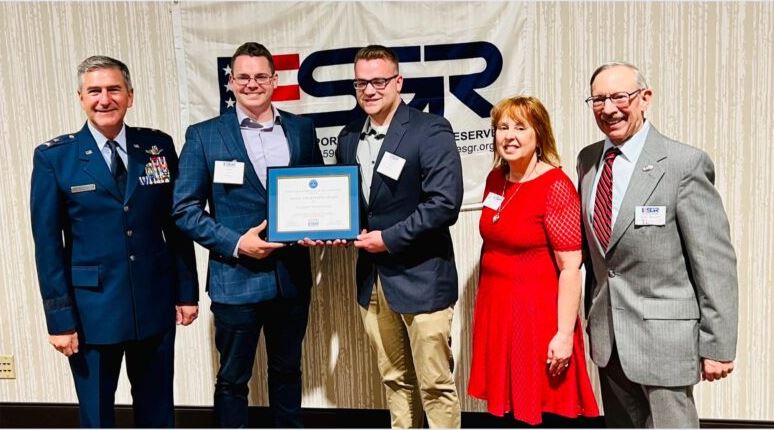 Supporting New Drivers
Service members bring valuable skills to the trucking industry, such as problem-solving, critical thinking, and teamwork. Nussbaum welcomes veterans who want to join the trucking industry (in all roles)! The federal GI Bill offers a range of benefits that go hand-in-hand with our driver training resources, including:
One-hundred percent tuition coverage for the Nussbaum Trucking Academy at Heartland Community College, where veterans can earn their Class A CDL.
Pay during driver training (on top of Nussbaum's trainee pay)
Our Duty to Them
On Veteran's Day, we're reminded (and rightly so) of the sacrifices brave men and women have made for us. But it's not just a time for remembrance – it's a time for action. What are we willing to sacrifice to support them?