Rick Schmidt, Director of HR & Safety at Nussbaum, has been named a 2022 Emerging Leader by Heavy Duty Trucking (HDT). We are so excited for Rick to be honored in this way!
Personable
Rick joined Nussbaum in 2016 as a Recruiter. The following year, he transitioned to the safety team. Jeff Jackson, a former driver who now works under Rick as a Safety Specialist, recalls initially being skeptical of Rick's age. "He was 23 and had lots of ideas about how I should drive," says Jeff. But eventually, "his friendly, outgoing manner made me see past his age and try the 'Smith System' (a driving technique) he liked to talk about."
That "friendly, outgoing manner" has become a fixture at Nussbaum. "I love how Rick greets applicants with a big voice and a friendly smile when they come to be interviewed," says Tianne Overmyer, our Student Program Coordinator. "I can only imagine that they feel immediately at ease."
Steady and Safe
In 2019, Rick assumed the role of Director of HR & Safety. He leads both groups on a mission to find, train, develop, engage, and support our people. Rick oversees the creation and practical rollout of company policies, working to balance flexibility and consistency. He strives to handle critical personnel situations with grace and truth. His colleagues agree that he is especially gifted in this area – phrases like "calm," "level-headed," "patient," and "a down-to-earth way of thinking through things" are some of their descriptors.
People from all backgrounds and situations describe Rick's office as a "safe place" to talk through things. Big issue or small, they find a listening ear and a ready helper. "Rick is always willing to listen," says Kevin Funk, our Fleet Safety Supervisor. "Any time I ask for help, he's never too busy to drop what he's doing and teach me something new."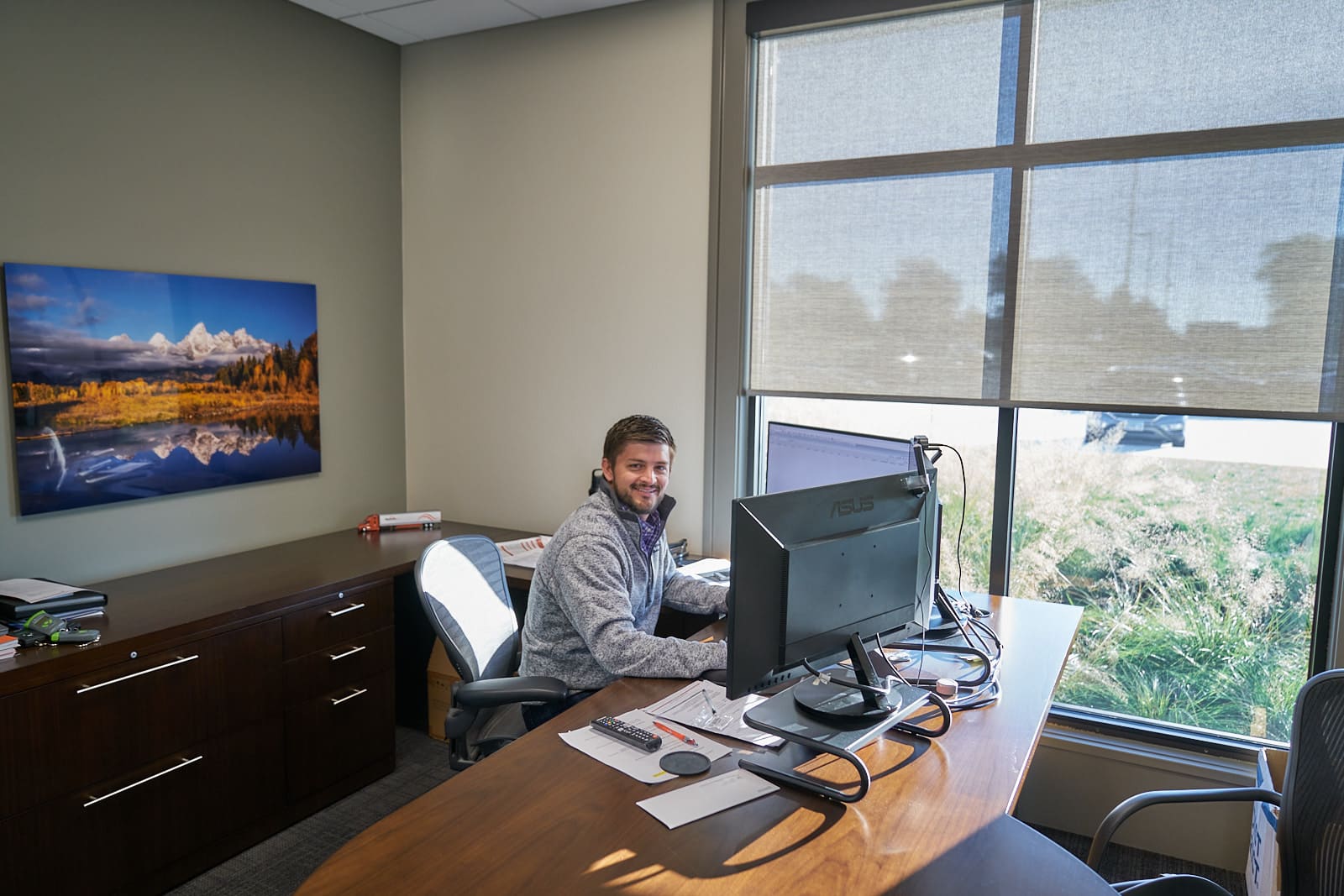 Purpose-Driven
In selecting the 2022 Emerging Leaders, HDT wanted to find people who are making a difference. For Nussbaum, Rick has made a huge difference in the kind of company we are becoming.
"Rick is a culture leader for us," says Jeremy Stickling, our Chief Administrative Officer. "Who we hire, how we develop and engage our people, and how we handle difficult situations and challenging conversations – these make a huge difference in a company's trajectory. Rick's heart for this work is incredible. He cares not only about what he does, but how he does it."
Congratulations Rick! Thank you for choosing to lead with integrity and own each moment. We are proud to call you our boss, colleague, and friend.
About the 2022 Emerging Leaders
According to HDT, Emerging Leaders meet several key requirements:
They are under 40 years old.
They make a difference in their workplaces and the trucking industry.
They are influential, accomplished, lead by example, and enthusiastically move trucking forward.
HDT also recognized the following individuals as 2022 Emerging Leaders:
Matt Brewer, Director of Operations, GreenPath Logistics
Jeremy Hock, Engineering Team Lead, Schneider
Jared Jackson, Maintenance and Safety Manager, Sioux Trucking
Brian Kohn, Executive Vice President, Inter-Metro Freight
Stephen Lusk, Director of Driver Hiring, EverGreen Industries
Greg Mellon, Manager of Parts and Purchasing, A. Duie Pyle
Rita Runge, Regional Manager for Mexico & TCU, Werner Enterprises
Angie Twardawa, CEO and Founder, Angie's Transportation
Ryan Walpole, Director of Maintenance and Purchasing, Walpole Co.
Congratulations to each winner!